Do you know your learning style? Our exclusive assessment can help you determine the best way for you to learn. By understanding your learning style, you will be able to develop strategies that will enhance your learning potential. Your predominant learning style is the way in which you prefer to learn, process, and store information. All students learn through visual, auditory, and tactile means, however, everyone has a predominant learning style with which they learn most efficiently.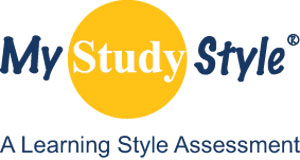 There are three primary types of learning styles:
Visual- You learn best through SEEING. You learn best by reading, watching a demonstration, and looking at graphics and illustrations.

Auditory- You learn best through HEARING. You learn best by hearing lectures, having information verbally repeated, and having information read to you.

Tactile- You learn best through TOUCH. You learn best by using hands on manipulatives, moving while learning, and experiencing the learning through action.
MyStudyStyle® provides a quick and easy way of assessing your predominant learning style. There is no right or wrong learning style. Your learning style is not related to intelligence. The main purpose of this assessment is to provide you and your Omega Learning® Center tutor with initial insight to most efficiently launch your tutoring program with the most effective teaching strategies.
The MyStudyStyle® learning style assessment and SAT/ACT Test Prep assessment is only available at an Omega Learning® Center franchised center. For a list of centers, visit http://omegalearning.com/find-tutors/
To learn more about the services of Omega Learning® Center and to find a center near you, visit: http://omegalearning.com
Trusted By




Employment opportunities are available for certified teachers. Contact our National Support Center for details.

Our mission is to provide customized instruction that achieves each family's educational goals.
Omega Learning® National
Support Center

770-422-3510
1720 Mars Hill Rd., Suite 8-180
Acworth, GA 30101

Omega Learning® also offers an AdvancED accredited private school for grades K-12.

For info about Omega Private Academy®, click here.

Omega Learning® National Support Center: 770-422-3510 | 5150 Stilesboro Rd, Building 400, Suite 410 | Kennesaw, GA 30152 | Franchise Opportunities Available | Google+ | Site Map | Privacy Policy Omega Learning® Center is NOT offering franchises in the following states: Alaska, Hawaii, New York, North Dakota, Rhode Island, South Dakota, Washington, and Wisconsin. *SAT is a registered trademark of College Board, which was not involved in the production of, and does not endorse, this service. ACT is a registered trademark of ACT, Inc.
Copyright 2023 Omega Learning® Center. Reproduction in whole or in part without permission is prohibited. All rights reserved.